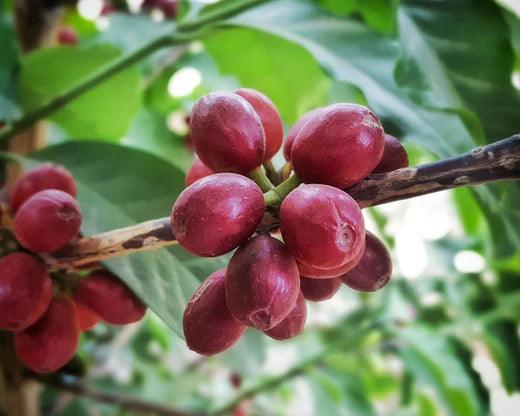 The Birth Place of Coffee
SHEBA - YEMEN - ETHIOPIA Sheba is a Kingdom mentioned in the Old Testament of the Hebrew Bible. Sources believe that it covered regions from Southern Arabia, now Yemen, to the highlands of Ethiopia. Yemen was prosperous with an active international trade. They were the main exporters of coffee in the 17th century, turning the local crop into an international one. Through these routes, coffee spread across Europe and beyond to global popularity. The Moka variety most likely got its name from the Yemen´s main habour, the port of Al Mokha. ⛰️🚢☕ CURIOSITY RISING For several seasons, we heard more talk in our community about coffees from Yemen. Our curiosity was rising and we cupped more coffees from the region to form an opinion. Our goal was to find the right partners to build a relationship and to take the first coffee from Yemen into our portfolio.
COFFEE REGIONS & CUP PROFILES
HIDDEN CHARACTER High elevation, conflicts and natural disasters are tough obstacles to build infrastructure and accessibility. Coffees were not processed well and traceability is an issue. Often times coffees are kept in the house over several seasons, sort of like a treasure box. In worst cases, next to a smokey kitchen. Leading to earthy, winey, cloudy cup profiles overshadowing the strong characters of Yemeni coffees.
QUALITY SHIFT & LOCAL PARTNER SHEBA COFFEE We were most impressed by the work of Sheba. Their systematic approach of building local processing centers, educating farmers and building close bonds with the local communities convinced us as much as the coffees they presented to us. Sheba have a strong network of NGOs with many ongoing sustainability projects. Farmers are paid 3x the local market price and 70% of the FOB price goes back to them. Mind you that coffees from Yemen are very expensive.
YEMEN
Growing Regions: Haraz - Al-Haymah, Dhamar - Anis, Al-Qafr
Varieties: Dawairi, Jaadi, Tuffahi
Harvest Period: October to March
OUR FIRST RELEASE
ABDULLAH YAHIA JABER The first coffee we selected to launch Yemen as a new Origin is from the Haraz region. Located at 2100 meters of elevation, this 25kg-lot has an impressively clean flavour profile: Black Fruit. Chocolate. Caramel. Prune. Cedar. Keep your eyes peeled. We will offer this tiny lot to our subscribers first. Roast date will be in the next couple of weeks.