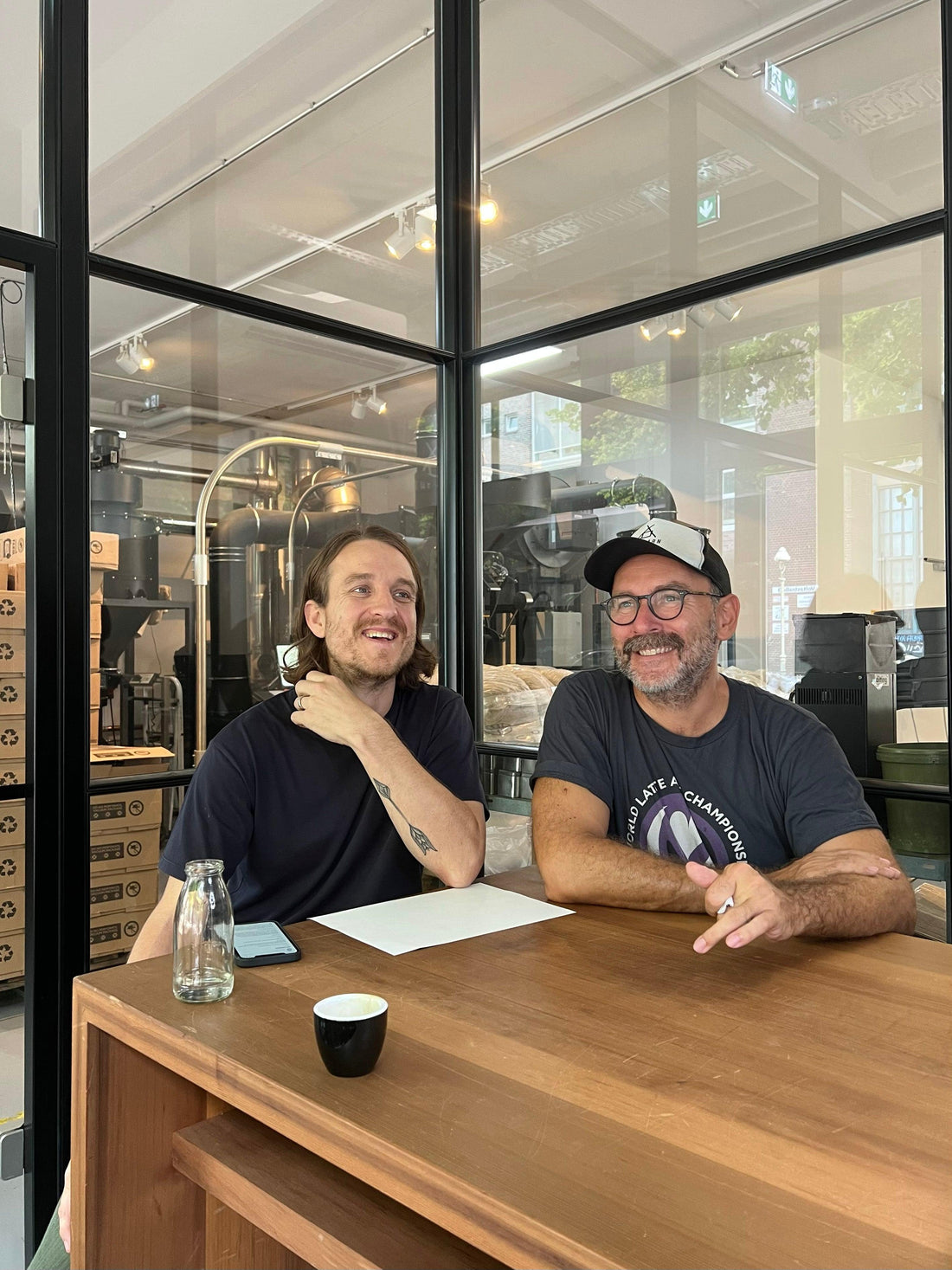 Take A Look At Our Next Masterpiece
El Burro Geisha Washed
From the famous Lamastus Family Estates in Panama, we have just unveiled a very special coffee. This August our Masterpiece Subscribers will receive El Burro Geisha Washed. Having previously featured outstanding coffees from Lamastus, we could not look past this incredible coffee when we tasted it on the cupping table.
Masterpiece Subscription
The Family Estates
Last week we had a chat with Wilford & Wilford to talk about our next Masterpiece Subscription Coffee. Alongside Ralf and our Head Roaster Garreth, they told us a little more about what makes the El Burro Estate so special and why the Geisha varietal continues to turn heads in the speciality coffee world.
Responsible for the creation and organisation of the annual Speciality Coffee Association of Panama auction, Wilford has been a leading figure in Panamas coffee scene for many years. Comprising three separate farms in three separate regions, Lamastus coffees are consistently ranked amongst the best in the world and El Burro is no different! The El Burro estate is one of the southernmost coffee farms in Panama. With some areas residing inside the Baru Volcano National Park, the estate is surrounded by lush native forest, benefitting from incredibly rich soil and a unique microclimate.
In The Cup
During our conversation Wilford explained how a low yield for the season and the cool conditions of the area have combined to produce an incredibly sweet coffee. Containing 50% of the sought after Geisha, El Burro Geisha washed has the delicate, floral, and complex qualities that are typical of the varietal. In the cup sweetness and acidity are perfectly balanced. With notes of fresh lemon, lemongrass, and sweet lemon sherbert, this is an amazingly bright coffee reminiscent of sweet herbal tea.
How To Brew
Following the introduction given by Wilford, we went live on Instagram with our Ralf and Tzan to show how best to brew El Burro Geisha and consider how we roast our Masterpiece beans. When brewing such delicate coffees, we would always choose the V60 brewer for its ability to bring out the balance between sweetness and acidity that we always try to achieve in our coffee. Adapted from the method we use in all our cafes, this V60 method would be the perfect match for any of our coffees. Find all the details below.
How To Roast
When it comes to roasting, everything is done to bring out the natural qualities of the incredible fruit that Lamastus has given us. Roasting in small batches for shorter periods allows the sweetness and acidity of the beans to shine. Here you can see our roast curve that we will replicate next week when we roast El Burro for our Masterpiece Subscribers.
V60 Recipe- El Burro Geisha
Step 1: 15g coffee - ground at 18 clicks on Comandante
250g water at 96 degrees
Step 2: Rinse your filter with freshly boiled water and drain, add your coffee.
Step 3: Start your timer and add 50g water to bloom. Ensure all grounds are wet for an even extraction.
Step 4: At 00:30 seconds pour water to 120g. Pour in a circular motion around the bed of the coffee.
Step 5: At 01:00 minute pour again to 180g.
Step 6: At 01:30 minutes pour up to 250g.
Order Here El Burro Geisha