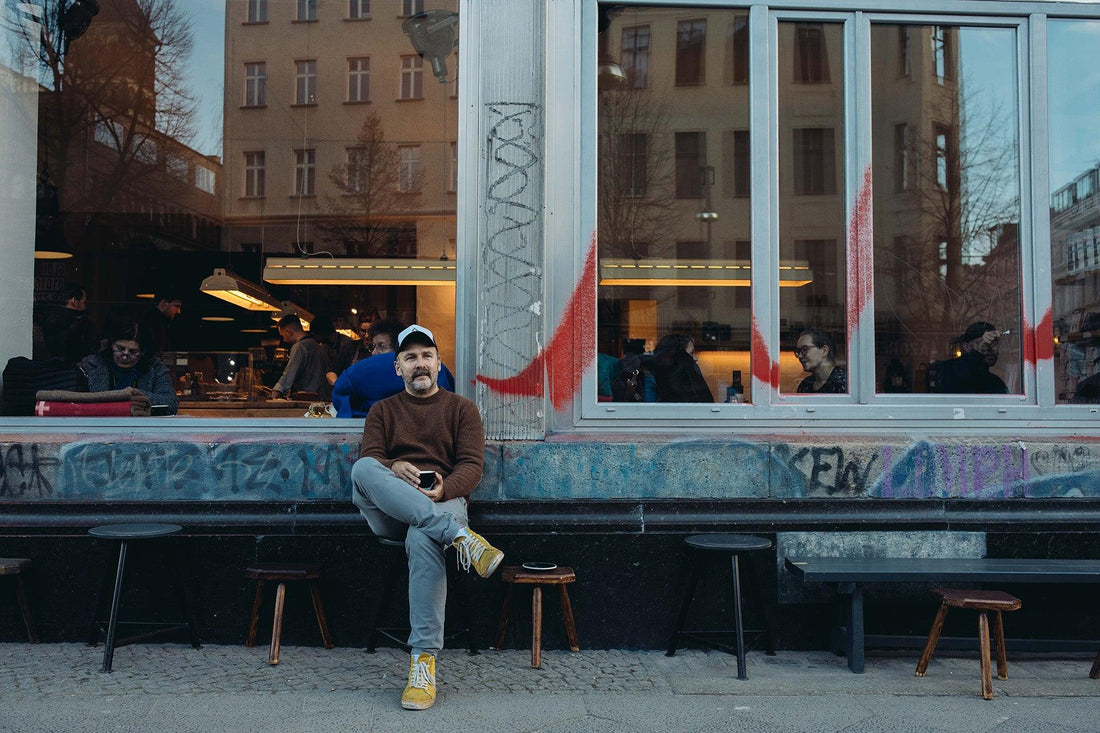 Last week, we celebrated the tenth birthday of our location at Schönauser Allee 8 in Berlin: now fondly known as The Old Roastery. This was our second ever location and as we made the step of roasting our own coffee, it was where the magic really started to happen.
As soon as we had opened the doors to our very first café, our minds were drifting to the day when we could roast our own Berlin coffee: when we could take sourcing and quality into our own hands. After searching for the perfect space for over a year, we came upon Schönhauser Allee 8: a rough gem in the middle of Mitte. Originally built as a bank in 1912, the building later became a pharmacy, a tattoo studio, and then a nightclub: when the bank's original underground vault took on a whole new life.

As we first stepped into to explore the space we came upon reminders of the building's previous incarnations: the basement fridge where the pharmacy stored prescriptions and mattresses lining the windows to avoid thumping techno attracting any unwanted attention.
Showing The Potential Of Coffee
With renovations complete, we roasted our first Berlin coffee in 2012. Over many years, Ralf created our iconic roast style with a simple goal: reflecting terroir and origin in the best possible way. Ten years later and we are still roasting to bring out clean, defined, and balanced flavour. Every single coffee has a roast curve, crafted to bring out the individual characteristics of the bean.
The Busiest Brew Bar In Town
Within the large and beautiful space, we were able to craft 12 metres of bar space: in a first for Berlin our espressos and our hand brews were given equal room to shine. Inviting customers to the bar as we were brewing allowed us to connect farm, flavour, and cup. With a story and the best flavours, no one was even thinking of asking for milk or sugar… With all attention on origin and flavour, we offered people a chance to slow down and appreciate the therapeutic, contemplative moment a cup of coffee can provide. Lingering over a brew lets it breathe and cool: like a fine red wine, we give our coffee beans the chance to show their full complexity.
The Journey From Origin
Roasting and brewing are the last steps in the coffee journey. Working directly with farmers, we were always looking to show off what makes coffee special. Paying higher prices for quality coffees that vary from place to place benefits farmers and coffee lovers alike: our work improving the coffee value chain has been one of our greatest successes and continues to define what we do.
A Coffee Destination Was Born
One night, in the queue for a late currywurst in Neukölln, Ralf remembers overhearing some excited visitors to Berlin: "Tomorrow we will go to The Barn… They have no signs on the window and you have to know where to find it. The best thing is they recommend coffee without milk or sugar: It is hands down the best coffee you will ever taste…" When hearing things like that we knew it was all worthwhile! Eventually, with many hundreds of kilograms going in and out of a small door each day, our roastery outgrew this beautiful spot. But today, The Old Roastery is still a destination, with our full range of single origin coffee beans, equipment, and a daily changing brew bar lineup.

So stop by for a brew, pick up some coffee beans, or join us at our weekly Sunday cupping to taste our newest releases. What we started on Schönhauser Allee continues to define Berlin coffee and everything else we do today. Pay us a visit or take a look at a seasonal coffee subscription to taste the best single origin coffee beans at home.


Find us here