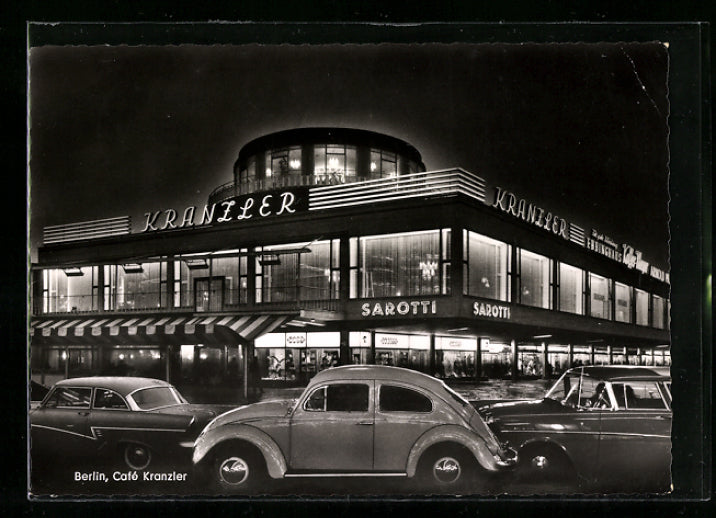 ALT KRANZLER
Cafe Kranzler, an iconic Berlin institution, boasts a rich history dating back to 1834 when it first opened its doors. Throughout the years, it has been a haven for intellectuals, artists, and locals alike.
Surviving World War II and multiple renovations, it stands as a symbol of resilience and timeless elegance. Known for its grandeur, exceptional coffee, and delectable pastries, Cafe Kranzler is not just a cafe; it's a piece of Berlin's cultural heritage that continues to enchant visitors with its history and charm.
Today, it is proudly run by The Barn Coffee Roasters, adding a modern touch to its illustrious legacy.
Up to 180 seats
360° Panoramic
WLAN
South-facing Terrace
The event space is located on the second floor in the famous rotunda of Café Kranzler. From here you have a unique 360° view
From the large round balcony and the south-facing terrace, you look directly onto the Kudamm
The interior has 60 seats and WLAN; the balcony with its red and white awning has another 60 seats
IN THE CAFÉ
Roof Terrace
Parties & Events
BBQ Station
Music System
A special highlight in the summer months is our roof terrace with a capacity of another 60 people
This is especially suitable for birthday parties, wedding parties or corporate events and popular for after work aperitivo
The terrace offers plenty of space for a BBQ station or cocktail bar. A DJ console can be connected to the music system
ON THE TERRACE
Craft Beer
Homemade Cakes
Cocktails
Natural Wines
Fresh regional food as well as finger food and homemade cakes are provided by our sister company "Splendid Delicatessen"
We mix cocktails according to the recipes of the "Freimeister Kollektiv". Our craft beer is brewed by "Johannes Heidenpeters" from Berlin
All natural wines are sourced from "Viniculture Berlin". Service staff and tableware can also be rented
CATERING
CLIENT TESTIMONIAL
Leo Majewski
Corporate Meeting

"Our corporate meeting at Cafe Kranzler was a success. Delicious cuisine, impeccable sound, and a central Berlin location, all within the elegant interior. Highly recommended for professional gatherings."

Adam Müller
Birthday Party

"Cafe Kranzler made my birthday unforgettable. From exquisite food to the enchanting music, it's Berlin's gem. The location, terrace, and ambiance combine for a perfect celebration."

Marie Smith
Wedding Reception

"Our wedding reception at Cafe Kranzler was a fairy tale. Exceptional cuisine, a captivating ambiance, and a prime Berlin location, with a beautiful terrace that added to the charm."